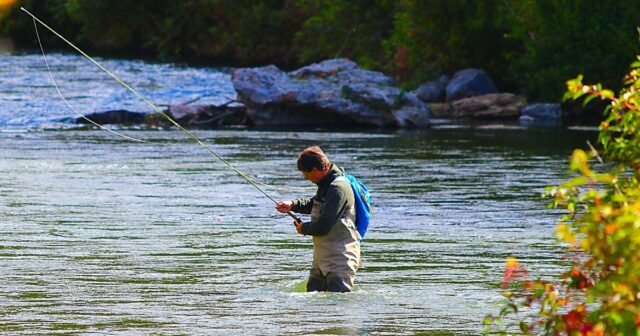 Ah, the Provo River in the Wasatch Mountains of Utah. the very bend and bend of the river offers a new challenge and an opportunity to connect with nature in a way that few other places can offer.
For beginners, the Provo River is a playground that will ignite your passion for fishing. Thanks to the easily accessible sections, you can cast your line into the water and feel the thrill of the first fish you catch. And for more experienced anglers looking for some real adventure, the Provo River offers some of the most remote and remote locations that will take you on a journey of discovery and untouched beauty.
There really is something for everyone on the Provo River, whether you're looking to spend a lazy afternoon casting your line into the calm waters, or trekking through the rugged wilderness in pursuit of the best catch. So if you're looking for a fishing spot that will ignite your passion and provide an unforgettable experience, look no further than the Provo River. This is a place where the beauty of nature and the pleasure of fishing merge in perfect harmony.
Where to fish on the Provo River
The Provo River is divided into three unique sections: Upper Provo, Middle Provo and Lower Provo.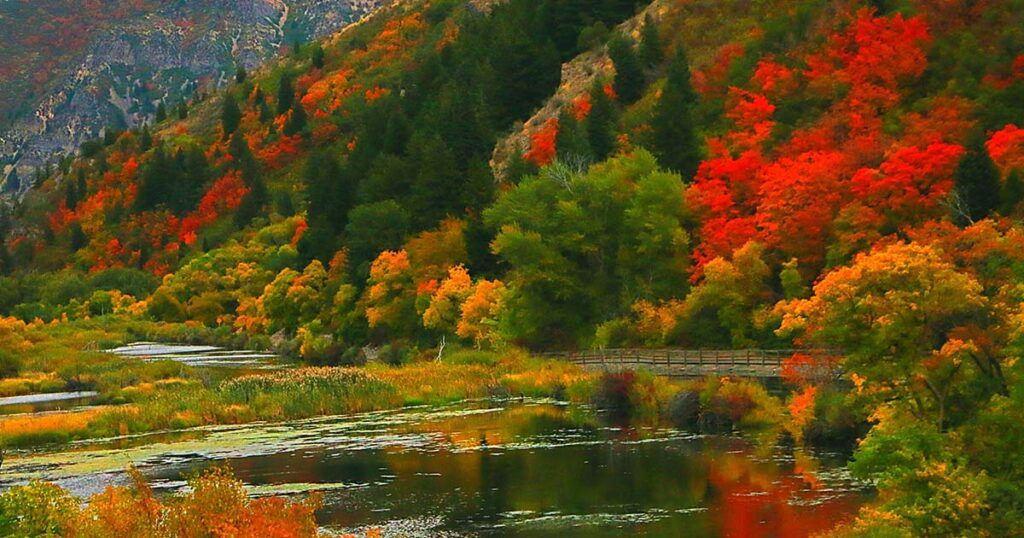 Upper Provo it is a limestone river that flows violently due to the melting of snow and runoff from the harsh western mountains of Wintas. This section will take you to the heart of the mountains. Here you will find remote fishing spots teeming with trout and surrounded by untouched wildlife. This is a place where you can disconnect from the hustle and bustle of modern life and connect with the unbridled power of nature.
Upper Provo sits above the Jordanel Reservoir and is known for its remote, rugged beauty. This section is perfect for anglers who are looking for a backcountry fishing experience. Upper Provo is home to native cutthroat trout, which are best fished from mid-June to early October. Access to Upper Provo is limited and anglers must be prepared for a challenging hike to get to the best fishing spots, and be aware that there are more private lots on this section than on other stretches of the river.
If you are looking for the best chance to catch brown trout, the middle and lower sections of the Provo and Weber rivers are your place.
Middle Provo this is a more accessible stretch of the river that still offers plenty of opportunity for adventure. Here you'll find miles of river perfect for fly fishing, as well as some of the most scenic views in the region. Whether you're a beginner or an experienced angler, Middle Provo is the place to test your skills and experience the thrill of the catch.
Middle Provo is the most popular section of the river and runs from Jordanelle Reservoir to Deer Creek Reservoir. This section of the river is home to a good population of brown and rainbow trout and is best fished from late March to mid November. Middle Provo is easy to get to and there are many public hotspots along the river. The section from Jordanel Dam to Charleston is incredibly productive.
And finally, Lower Provo it is a section of the river favored by anglers and non-anglers alike. Here you will find a more urban environment with parks, trails and plenty of recreational opportunities. But don't let that fool you – Lower Provo still offers some of the best fishing grounds in the region, with plenty of trout to catch.
Lower Provo flows from Deer Creek Reservoir to Utah Lake and is known for its impressive fish population. Brown trout and rainbow trout, as well as mountain whitefish, are found in this section of the river. Fishing is best in Lower Provo from late March to mid-November, and there are plenty of public access points along the river. The area below Deer Creek Dam is also a productive fishing area. This lower Provo has blue winged olive, mayfly and dun hatch hatches that can lead to amazing dry fly fishing. In the lower Provo River, the ratio of browns to rainbows is 60/40.
What kind of fish can be caught on the Provo River?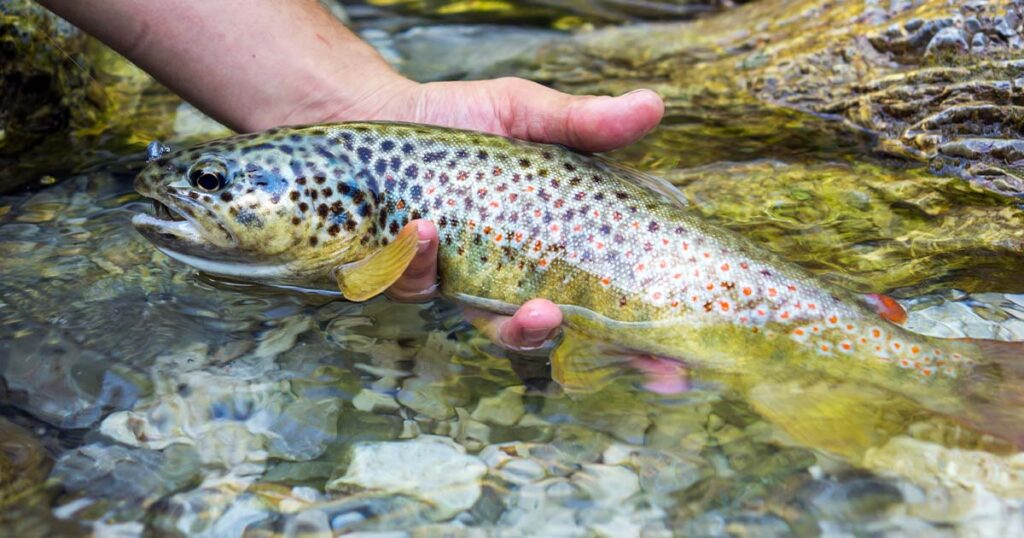 brown trout
Rainbow trout
cutthroat trout
Brook trout
mountain whitefish
Bass Smallmouth
Channel catfish.
Tackle and gear for fishing on the Provo River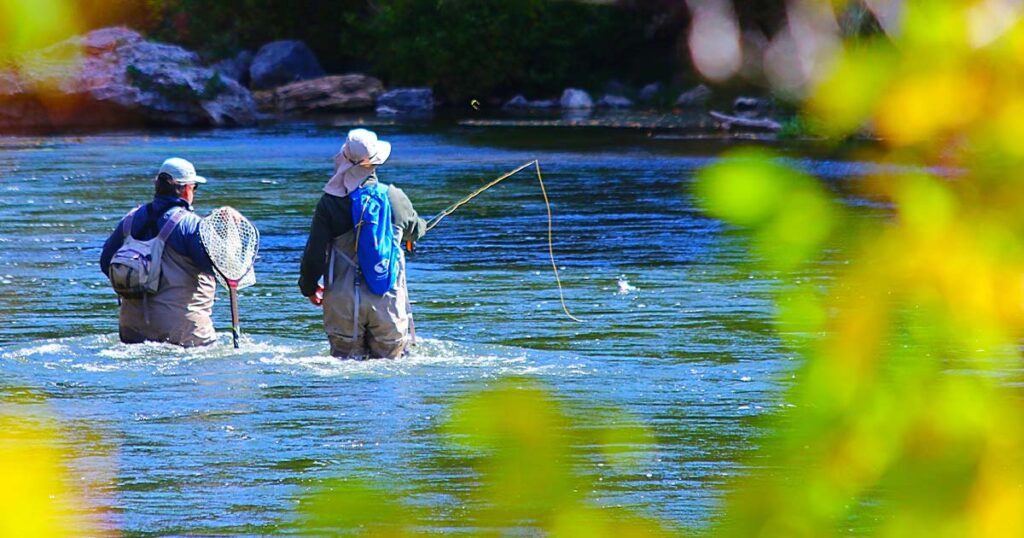 When fishing on the Provo River, having the right gear can be the deciding factor in your adventure. From rods and reels to lines and flies, you need to make sure you get into the river with the equipment that will give you the best chance of catching big fish. Here is a breakdown of the essential equipment needed for a successful day on the Provo River.
rods
All in all, a 9-foot, 5-weight rod will be the best all-rounder for most fish found in the Provo River. That being said, the Provo River offers a variety of fishing conditions, so it's important to have a rod that can handle different types of water and fish. The 3-5 weight Upper Provo rod is ideal for small cutthroat trout fishing in this remote area. In the Middle and Lower Provo sections, a 4-6 weight rod is a good choice for big brown and rainbow trout.
lines
The Provo River offers a mixture of fast and slow water, so it's important to have a line that can operate at different speeds and depths. Floating line with a forward weight and tapered leader is a good all-around option for the Provo River as it can be used for both dry and wet fly fishing. The leader should be 9 to 12 feet long and taper to 4x or 5x. For those who want to fish in deeper waters, a sinking line will help lower the fly to the desired depth.
flies
Dry flies are especially effective on the Provo River and anglers should have a variety of models in their fly box. Some tried and true specimens include Hare Ear, Pheasant Tail, Scud, Zebra/Tiger Midge, Parachute Adams, Blue Wing Olive, Moose Hair Caddis, and San Juan Worm. And don't forget the trusty little stonefly nymph. These templates have stood the test of time and continue to deliver results on Provo.
Nymph trapping is also a productive technique on the Provo River, so make sure you bring a variety of nymph specimens, such as pheasant's tail, hare's ear, and zebra midge, into your flybox.
When Streamer catches Provo, popular streamer models include Woolly Bugger, Sculpzilla and Clouser Minnows.
It is important that the shading matches the hatch, so keep an eye on which insects and aquatic life are the most active.
Other equipment
A few other things can make a day on the Provo River more enjoyable. A good pair of waders and wading boots can make navigating the river much easier. A good landing net can also help in safely landing and releasing fish. And don't forget to bring sunscreen, polarized sunglasses, and a hat to protect yourself when you're out on the water.
Also read: Backcountry Guerrilla Fishing
Fishing technique on the Provo River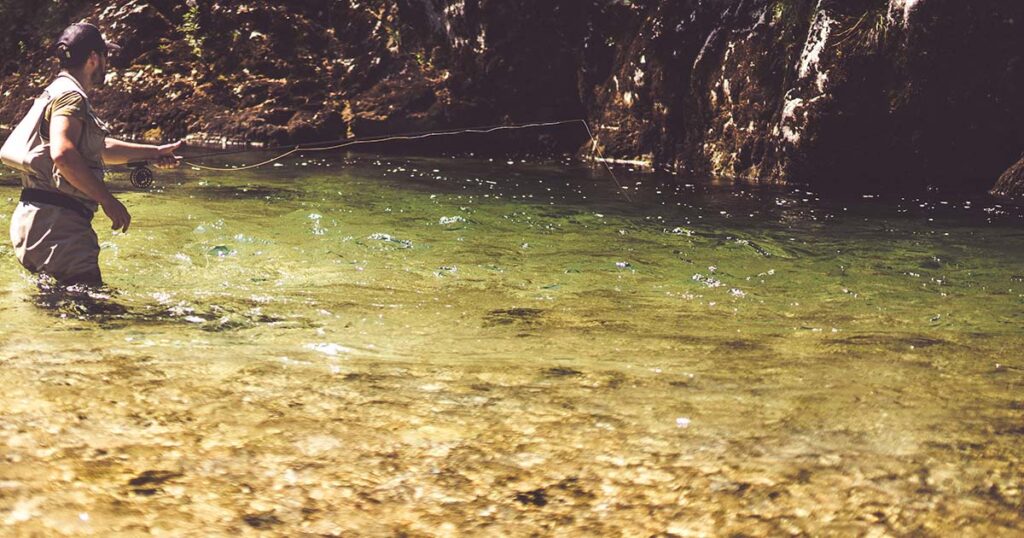 The Provo River is a popular spot for fly fishing, but it can be tricky for beginners. Here are some tips on how to read the water and find fish on the Provo River.
Look for riffs and runs. Rifts and streams are sections of a river where water flows quickly over small stones or gravel. These areas are ideal for finding trout as they provide oxygen rich water and food sources. Look for fish feeding in lines of foam or along layers of slowly flowing water.
Check out deep pools. Deep puddles are another productive fishing spot on the Provo River. Larger fish are often found in these areas, especially during the warmer months when water temperatures rise. Fish in these areas with a sinking line or nymph rig using models that mimic what is most active in the area you are fishing.
Looking for structure. The fish likes to hang near river structures such as rocks, logs and undercut banks. These areas provide cover and protection from predators and ambush sites for prey. Catch the edges of these structures with a dry fly or streamer, guiding the fly along the edges where the fish are likely to be hiding.
Pay attention to weather and time of day. Weather conditions and time of day can affect fishing on the Provo River. Cloudy days are often more productive for fishing than sunny days, as fish are more likely to feed on the surface. Early morning and late evening are also good times for fishing, as the fish tend to be more active.
Rules and regulations for fishing on the Provo River.
fishing license: You must have a valid Utah fishing license to fish the Provo River. Licenses can be purchased online or at your local sporting goods store.
Catch and release: The Provo River is primarily a catch-and-release river.
fishing season: Fishing on the Provo River is open all year round, but the types of fish that can be caught and the fishing methods allowed vary depending on the season. Visit the Utah Division of Wildlife Resources website for specific dates and policies.
Fishing methods: Only artificial flies and baits can be used on the Provo River. Lure fishing and the use of flavored baits are prohibited.
River access: Please respect the boundaries of private property and enter the river only from designated areas. Trespassing on private property is prohibited and may result in fines or legal action.
Restrictions: On the Provo River, the use of lead sinkers and weights is prohibited, as they can harm fish and other aquatic life.